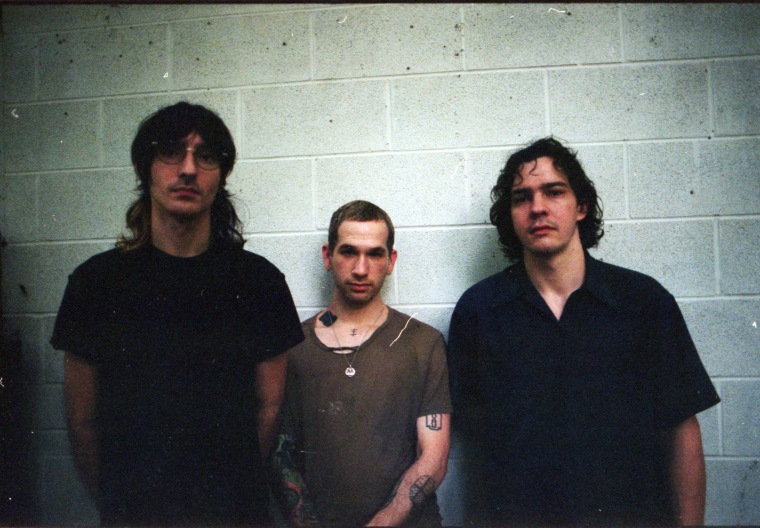 Earlier this year, Texas's Portrayal of Guilt shared a devastating collision of black metal and hardcore in their album We Are Always Alone. They're back for more with Christfucker, a new album out November 5 on Run For Cover Records.
Today, you can hear the project's lead single "Possession," a track that throws a layer of steaming black pitch over the band's expansive, nearly operatic sound. "We think of it partially in the sense of scoring a horror movie," guitarist/vocalist Matt King said of the new album. "We wanted to create an atmosphere of anxiety and fear."
Listen to "Possession" below, followed by dates for Portrayal of Guilt's upcoming 2021 tour with bands like Code Orange, Chat Pile, and Sheer Mag (come to Canada, plz). This month, Portrayal of Guilt shared a new song called "Touched By An Angel" on a split 7" with Oklahoma City's Chat Pile.
Portrayal Of Guilt 2021 tour dates
10/14 - Baton Rouge, LA - Mid City Ballroom
10/15 - Little Rock, AR - Vino's #
10/16 - Memphis, TN - B-Side #
10/17 - Nashville, TN - DRKMTTR
10/18 - Asheville, NC - Static Age Records
10/19 - Richmond, VA - The Camel !
10/20 - Brooklyn, NY - Saint Vitus ~
10/21 - Boston, MA - Cambridge Elks Lodge ~
10/22 - Berlin, CT - Berlin VFW ~
10/23 - Washington, D.C. - DC9 ~
10/24 - Durham, NC - The Pinhook ~
10/25 - Columbia, SC - New Brookland Tavern
10/26 - Atlanta, GA - 529 ~
10/27 - Birmingham, AL - Seasick Records ~
10/28 - Houston, TX - Red Dwarf ~
10/29 - San Antonio, TX - Vibes Events Center *
10/30 - Austin, TX - Elysium (Levitation) ~
10/31 - Albuquerque, NM - Sister ~
11/01 - Phoenix, AZ - Valley Bar ~
11/02 - Los Angeles, CA - Zebulon ~
11/03 - San Francisco, CA - Rickshaw Stop ~
11/04 - Portland, OR - Mississippi Studios ~
11/05 - Seattle, WA - The Vera Project ~
11/06 - Boise, ID - Neurolux ~
11/07 - Salt Lake City, UT - Kilby Court ~
11/08 - Denver, CO - HQ ~
11/09 - Omaha, NE - Slowdown ^
11/10 - Chicago, IL - Empty Bottle ~
11/11 - Cleveland, OH - Now That's Class ~
11/12 - Philadelphia, PA - PhilaMOCA ~
11/15 - Pittsburgh, PA - Mr. Roboto Project %
11/16 - Columbus, OH - Ace of Cups %
11/17 - St Louis, MO - The Sinkhole ^
11/18 - Oklahoma City, OK - 89th Street #
11/19 - Dallas, TX - Double Wide #
~ w/ Uniform, Body Void
# w/ Chat Pile
* w/ Code Orange, Uniform
! w/ Sheer Mag, Soul Glo
^ w/ Bummer
% For Your Health