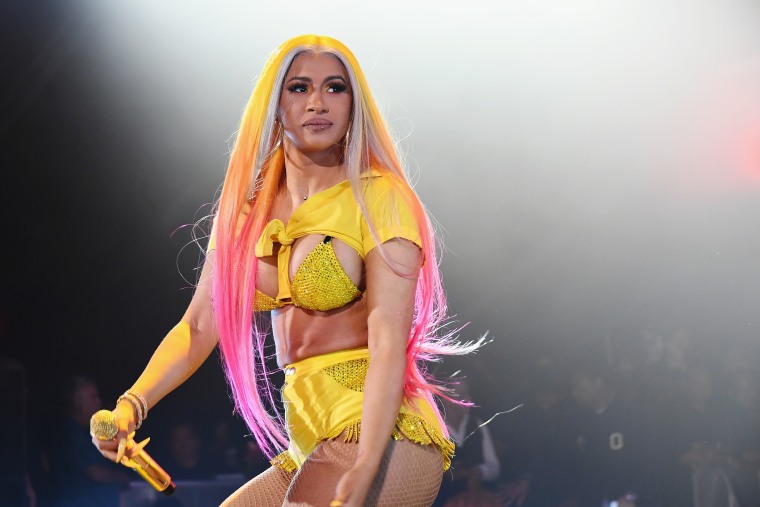 Cardi B is the cover star of the September issue of Elle. In her profile, she drew attention to the case of 26-year-old Breonna Taylor, a Black woman who was shot dead in her home by Kentucky Police, and said that she believed more male rappers should speak up about the issue.
"A woman like Breonna Taylor, she was young. She looked like she was listening to your music," Cardi told Elle of her male counterparts, "She looked like she was your fan. You should stick up for her."
Taylor was killed after Kentucky police raided her apartment on the morning of March 13 after obtaining a warrant to search for drugs. Taylor's boyfriend Kenneth Walker, who claims that police did not announce their presence before smashing down the front door with a battering ram, fired one shot and injured a police officer. Taylor was killed in the ensuing volley of bullets fired inside the house by police — speaking with CNN, police oversight expert Walter Katz called Taylor's death "very problematic," and that it highlighted "systemic flaws in [police] training and tactics." There is no body camera footage of the incident, and none of the three police officers involved in the shooting have faced criminal charges.
The shooting of Taylor, and the police's subsequent behavior (which included a nearly blank police report that listed Taylor's injuries as "none") has led to sustained protests across the world. "[I saw] Breonna Taylor's name everywhere," Cardi said, "but I didn't really know her story. What they did to her is really fucked up. Really fucked up. What's the excuse? Why is the cop not in jail? Wasn't what he did a crime? It's a crime! And no apology. No apology. No video of the cop coming out crying, 'I fucked up. I don't this. I don't that.' Nothing. It's nothing. I don't even know how her mom still holds her head up. Unbelievable."
Lawyers for Breonna Taylor's family have filed a wrongful death lawsuit against Brett Hankison, Myles Cosgrove and Jonathan Mattingly, the three officers involved in Taylor's death. The lawsuit claims that the warrant that led to her death was part of a wider scheme to gentrify Taylor'd neighborhood.